Laser Therapy
K-Laser
Managing Veterinarian, Dr. Andrew Carlton and his Associate, Dr. Rachel Temkin of Sahuaro Vista Veterinary Clinic, proudly announce the addition of K-Laser Class IV therapeutic laser treatments for advanced pain relief and enhanced tissue healing. "We are very excited to offer these treatments to our patients," said Dr. Carlton, "Lasers have been used in Europe for dozens of years, but are relatively new here in the US. The K-Laser is an effective treatment for many conditions." The K-Laser is a product of K-LaserUSA, the leading company in Class IV laser therapy. The K-Laser is being used by numerous Veterinary health care providers throughout the United States and the world.
Dr. Carlton went on to say, "We can help many more patients than we could before, in a safe, effective and drug-free manner. The K-Laser is one of the best additions to our clinic. It is very exciting to treat our patients and watch them improve with virtually no side effects. With this therapy we can augment our treatments for: Lick Granulomas, Stomatitis, Gila Monster bites, Snake and Spider Bites, Acute and Chronic Intervertebral disc disease, Fractures, Tendonitis, Extractions, Arthritis, Rhinitis and Sinusitis, Sprains/Strains, Otitis, Post-surgical incisions, Cystitis, Hip Dysplasia, Hot Spots, Trauma. I have even used this therapy on my own dog who has been suffering from acute disc disease. I was amazed at her improved condition and improved quality of life."
We chose this laser out of the many therapeutic lasers that are available in part because this laser delivers up to 12,000 milliwatts of therapeutic laser energy. It is the only Class IV therapy laser with wavelength selectability, intense superpulse, and multiple therapy presets. The higher power of Class IV therapy lasers delivers a therapeutic dosage of laser energy to a larger volume of tissue, thus producing more immediate and significant results.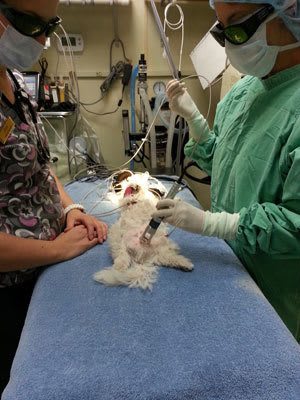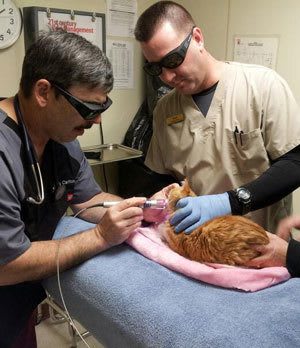 How It Works
Laser therapy works by stimulating production of cellular energy in damaged cells and by enhancing the cell membrane permeability. This promotes the speed and the quality of healing, enhances the exchange of nutrients and wastes across the cell membrane and improves elasticity of injured tissues. Laser therapy also modulates pain and reduces inflammation. It can be used immediately on acute injuries, over broken skin and over metal implants. Laser therapy enhances the rate and quality of healing of acute injuries, and can help with the resolution of chronic complaints such as arthritis.
"The K-Laser is being used in the very best Veterinary clinics across the country. We are very pleased to offer the latest laser therapy technology to our patients," continued Dr. Carlton.
To make an appointment for K-Laser treatment call Sahuaro Vista at 520-297-3313. Sahuaro Vista is located near Oracle and Magee on Cool Drive just across from Discount Tires, and the office hours are Monday through Friday 7 am until 5 pm and Saturday's 8 am until 1 pm. Sahuaro Vista's staff is willing to answer your questions regarding K-Laser therapy.